Pueblo Convention May 19-23, 2022
CFO's next convention is scheduled for May 19 - 23, 2022 in Pueblo, CO. Pueblo and the surrounding area is an amazing location for Colorado birding. The access to a variety of habitats, leads to Pueblo County having the largest county bird list of any in the state. This is one of the easiest areas in which to see most of the southeast canyon specialties, and Pueblo Reservoir, one of the largest bodies of water in the state, has attracted just about every rare waterbird you can think of. Join your fellow CFO members to explore this wonderful part of the state.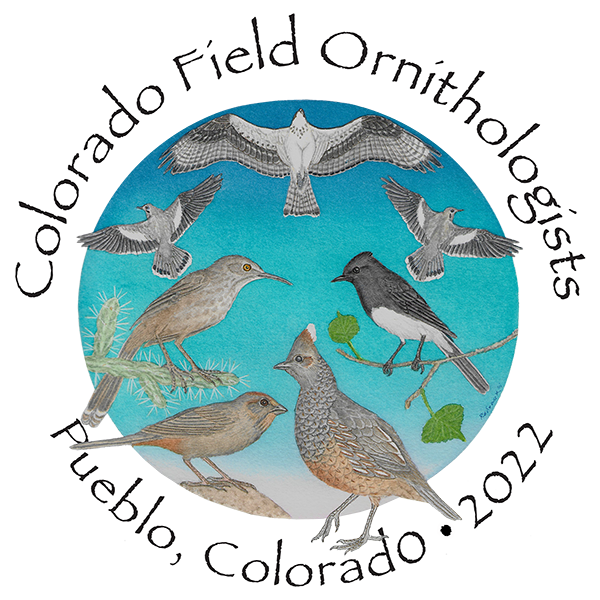 Schedule
Thursday May 19 - Field trips from various origins all ending in Pueblo; Welcome Picnic (3-8 pm)
Friday May 20  - Full-day field trips, Presidents' Social at Brue's Ale House (4:30-7:30 pm)
Saturday May 21 - Full- and half-day field trips, Scientific Session (1:30-4:30 pm), Banquet (5-9pm)
Sunday May 22 - Full- and half-day field trips
Monday May 23 - Field trips starting in Pueblo and ending in locations across the state
From desert scrub to riparian habitat to coniferous forests, the convention field trips take you to stunning areas surrounding Pueblo to find the best resident and migrant birds. Trips on Thursday and Monday will traverse routes to and from Pueblo. Trips on Friday, Saturday, and Sunday all start and end at the convention hotel. 
Trips are included in convention registration. A few trips will have additional access fees or require participants to have a specific pass that they may need to purchase. Field trips range from short walks and birding by car to strenuous all-day hikes. Please read field trip descriptions carefully before registering. 
Join your fellow members for an evening of laughter, food, and learning. Mike Parr, President of the American Bird Conservancy, will speak on bird conservation across the Americas.
Learn about new projects CFO is undertaking and vote on the CFO Board of Director members as part of the CFO Annual Meeting.
CFO's Scientific Session is held Saturday afternoon from 1:30-4:30 pm at the convention hotel. Attend and learn about the latest research on Colorado's birds. 
CFO welcomes talks on topics related to Colorado avian diversity and conservation. Talks may be presented by hobbyists, students, and professionals.  Details for submitting an abstract to present during the scientific session are below in Convention Logistics. 
Important: If you want to attend the Scientific Session, be sure to sign up for a ½ day field trip on Saturday.  
Download the Science Session Schedule and Abstracts (in the Convention Program, PDF)
Hosted by current and past CFO Presidents, come relax and share the day's sightings with others on Friday evening. Enjoy the view and open air from the rooftop of Brue's Ale House in downtown Pueblo . CFO is providing appetizers and Brue's Ale House bartenders are there to fill your drink orders.
Brue's Ale House is all ages. 
It's a CFO tradition! Meet 'n' greet, great food, and usually a notable bird sighting or two. Our convention kicks off with a Thursday evening picnic at City Park, Rotary #43 Pavilion. Catch up with old friends, make new friends, watch birds, and eat yourself silly.
The picnic will be a burger, sausage, and dog buffet with vegetarian and gluten-free options.
Check out new optics and gear! Learn about community organizations doing outstanding work across the state and beyond. Vendor booths are located in the convention hotel meeting room along with registration, pre-ordered food pick-up, and the silent auction. Drop-in and check them out.
Environment for the Americas
Front Range Birding Company
Opticron USA
Silent Auction to Benefit Research & Conservation Grants
Fantastic bird art from a generous donation by John Moore and a beautiful quilt with all the state birds are part of the silent auction.  The silent auction will be in the room with the info table, food pick up, and vendors so be sure to check out these pieces that will look great in your home or office.  All proceeds go to support CFO's grants and scholarships program. These grants and scholarships fund students and professionals in their research on Colorado birds, support important conservation efforts, and help develop the next generation of avian scientists in Colorado.
Bidding can occur anytime the meeting room is open from 8pm Thursday to 5pm on Saturday.  The schedule for the meeting room will be posted on the meeting room door and included in the attendee packets.
Bidders must be present at the convention. Winners will need to pick up and pay for their items on Saturday, May 21 from 5-5:30pm or 8:45-10:00pm or Sunday, May 22 (times TBD) in the meeting room of the Hampton Inn.  Items will NOT be shipped.
Attendee Packets & Convention Program
Vendor Information
Vendors at the CFO Convention will be located in the hotel meeting room where all the convention-related activities at the hotel (registration, silent auction, science session, food pick up) will occur.  This will yield high foot traffic and the opportunity to interact with the vast majority of convention attendees.
The room will be locked when the room is not staffed by CFO volunteers.
Booths are $50 each. Each booth will back up against a wall and face the interior of the room. Each vendor will be provided with a 6'x 2.5' table but may bring their own if they prefer (tables cannot be over 8ft long). Electrical outlets are available along the walls but vendors are responsible for bringing extension cords.
Vendors are responsible for complying with any applicable city, county, or state taxes on items sold at the convention.