Birding and birdwatching are for everyone.
CFO stands by this mantra. CFO envisions an increase in its diversity, inclusion, and equity footprint to ensure the growth of our beloved hobby or profession beyond who we are now. Our organization's vision highlights our desires for a more inclusive Colorado birding community.
CFO wants "to significantly contribute to… the inclusion of all individuals in the enjoyment and preservation of birds in the state of Colorado."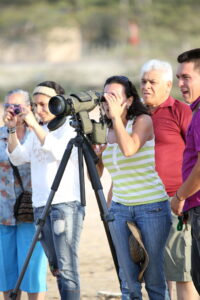 Just like we understand the diversity of birds and the need for biodiversity to maintain healthy ecosystems, CFO believes in building a diverse community of birders, bird watchers, and bird lovers.  From those just getting started, to those who have been birding for years, we see an encapsulation of all bird lovers into an inclusive community striving for the same goal: conserving, studying, and educating about birds. 
Looking for accessible places to bird?
Check out great local birding spots near home or across Colorado. 
In 2022, CFO volunteers are helping to update the birding location information on the site to include information on accessible parking and trails and to expand the number of sites that are accessible to all. 
Let us know if you want to help with this project or know of a good location in Colorado we should include. 
Traveling outside the state, check out Birdability's global map of accessible sites.
CFO is always learning and striving to provide opportunities for everyone in our community.
The resources from Birdability help inform our plans.
What does Birdability do? "Through education, outreach and advocacy, Birdability works to ensure the birding community and the outdoors are welcoming, inclusive, safe and accessible for everybody. We focus on people with mobility challenges, blindness or low vision, chronic illness, intellectual or developmental disabilities, mental illness, and those who are neurodivergent, deaf or hard of hearing or who have other health concerns."
 Do you see a place for birdwatching in your community, and don't know how to engage with it yet?  Contact CFO to learn more about how we can help in your community.