Welcome to the New CFO Website
CFO has an updated website with new membership and event registration systems! The website includes more resources for improving your birding skills and connecting with the Colorado birding community. This new system will provide you with an easier way to register for events and stay up to date with CFO.
Click through the menu and find all the new information and features of the new site.
New User Accounts
New to CFO?
Welcome. You can create your account by joining CFO (learn more about membership). Or if you want to register for an event as a non-member, an account will be created for you as part of the registration process (see upcoming events).
Activate an Existing Account
If you have previously been a member or registered for an event with CFO, you already have a CFO account that has been moved to this new platform. You will need to log in and select a new username and password for your account. Instructions can be found at cobirds.org/account-faq/.
The trickiest step is first clicking on Member Login in the top right and then selecting "Having trouble logging in?". You then enter your email and you'll get an email sent to you to set up the rest.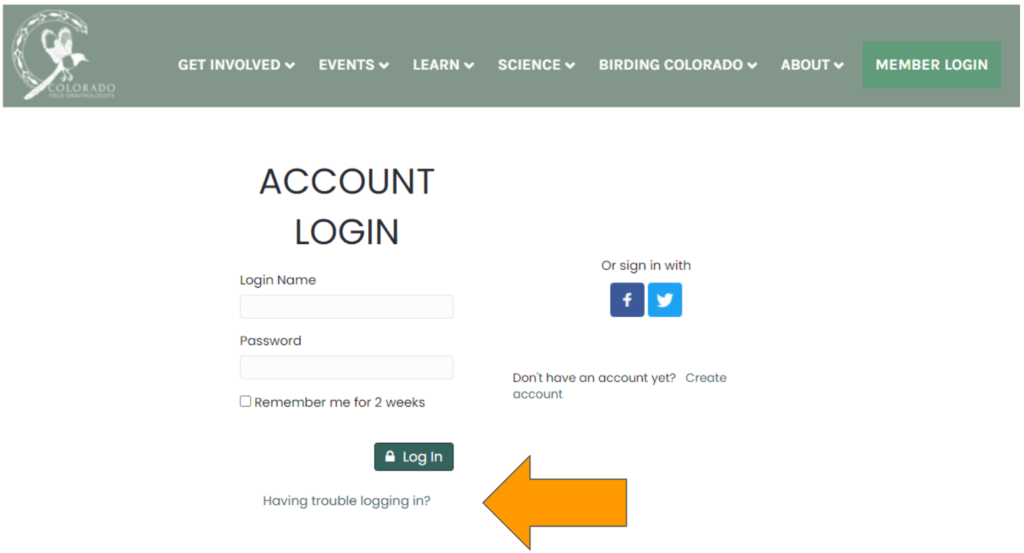 Live in a household with more than 1 CFO member
With our new platform, each person who is a member or wants to register for an event will have their own account. CFO now offers a household membership for only $15 to be added to any individual membership (print or digital). Learn more about household memberships.