Colorado State Wildlife Areas – Usage and Changes
In August 2023, the Colorado Parks and Wildlife Commissioners approved modifications that include changes that impact access to State Wildlife Areas (SWAs). With the changes to the SWAs, questions have arisen about purpose, site access, and what has changed. These changes are detailed in the 2023 Colorado State Recreation Lands brochure (see pages 1 and 3 in brochure). It is an excellent guide to SWAs!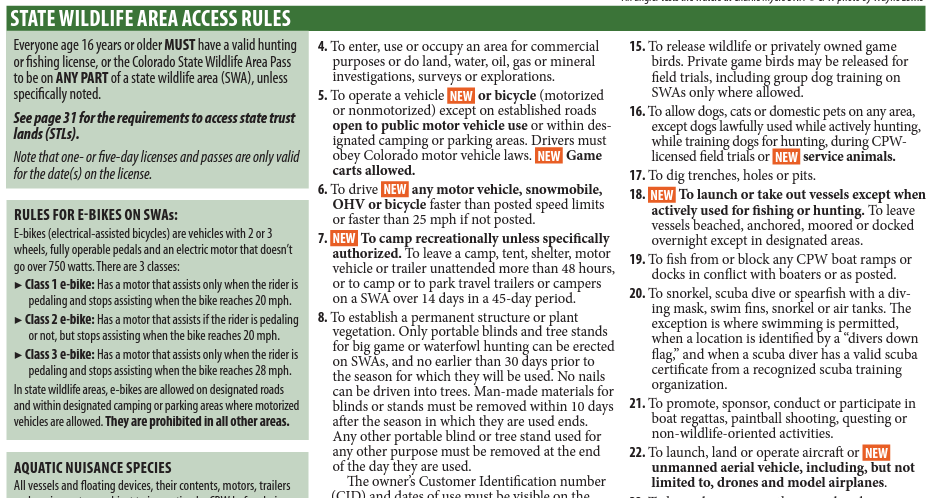 The brochure includes updates to prohibited activities at SWAs. Source: CPW 2023 brochure pg. 3.
Funding
Colorado Parks and Wildlife manages 42 state parks, all of Colorado's wildlife, more than 300 SWAs, and many recreational programs. Colorado SWAs are managed for conserving wildlife and wildlife-related recreation. Colorado State Parks are managed for historical conservation and outdoor recreation.
That distinction can sometimes get blurred. Both are considered enterprise organizations with funding coming from different sources.
SWAs are primarily funded by hunting and fishing license purchases and excise taxes on the purchase of hunting and fishing equipment. In 2021, the Colorado State Wildlife Area pass has also contributed to SWA management funds.
State Parks are funded by use fees, including the Keep Colorado Wild pass available through voluntary vehicle registration renewal options. You can learn more about the Keep Colorado Wild pass in the July 2022 CPW podcast: 1.31- Keep Colorado Wild Pass – 10 minutes.
For more on the funding of CPW, see the Funding page on their website.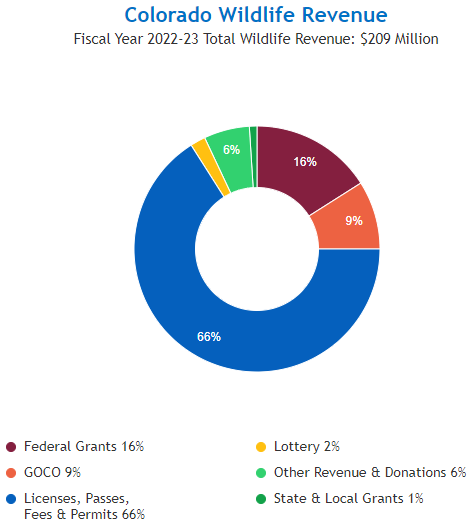 CPW wildlife revenue for fiscal year 202-23. Source: CPW funding webpage.
Usage
First established in 1881, there are 350 SWA throughout Colorado that were originally acquired and are managed to primarily restore, manage, conserve, and enhance wildlife and wildlife habitat; and to support wildlife-related recreation which includes hunting, fishing, and, since 2019, wildlife viewing.
The focus in these areas is on conservation programs:
Wildlife management, including non-game wildlife
Threatened and endangered species protection
Habitat restoration
Wildlife recreationists
Increased human population and growth of urban areas, as well as recreation pressures, on these properties are beginning to become incompatible with the original intention of keeping SWAs for wildlife. More residents are using SWAs as parks and open space.
A Colorado State Wildlife Area Pass was implemented in 2019 to augment hunting and fishing licenses to support wildlife area conservation and remove barriers to access. The intention was to reduce barriers for non-hunters/anglers and still meet the legal related to requirements related to the properties and funding. The pass cost is the same as a fishing license. Since its inception about 11,000 passes have been purchased.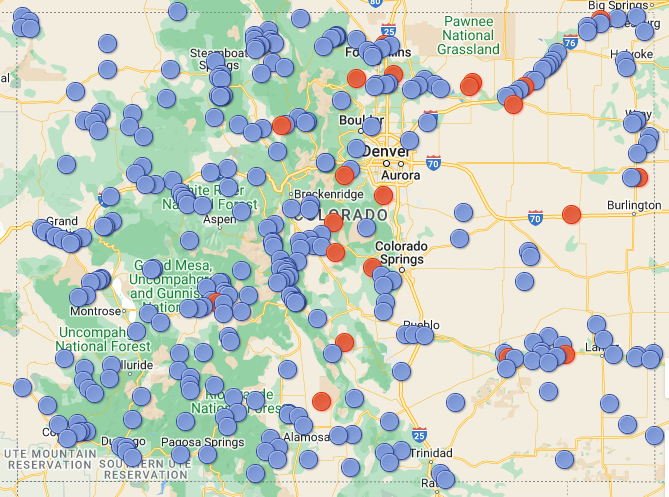 SWAs in Colorado. All dots represent SWAs, red dots indicate those areas with an active alert at the time of publication. Source: CPW SWA map.
2023 Changes
A working group was established at the direction of the CPW Director and Commissioners to fully review SWAs and their regulations. There was wide variation in definitions, regulations, and detailed information across the SWAs. For example, there were 18 definitions governing campfires and many different definitions of water vessels.
Two categories of regulations were created. General regulations applying to all SWAs and special regulations applying to individual SWAs that add to or supersede the general regulations based on needs or requirements.
Also created was an internal tool for CPW to categorize areas into four tiers (buckets) of wildlife properties as an aid in understanding the value and usage of the properties:
Critical Habitat for wildlife
Important to wildlife recreation
Multi-use possibilities with potential for increase in recreation
Questionable SWA Status – Wildlife Managers will continue review for future potential changes
The Commission approved the proposals after a public comment period. During the public comment period, 191 members of the public provided comments. There were 51 comments about specific properties and 140 regarding the general changes. This resulted in some modifications to the proposal.
The current status, after approval, is that there is one lawsuit by Friends of Animals, an animal rights group. Concerns of recreation groups are being reviewed by the Commission. Further details will be forthcoming.
There are a variety of views on public lands, hunting and fishing. As an organization, CFO does not take a position on this. CFO provides this information to keep the community updated on the current status of SWA regulations.
Buy a Colorado State Wildlife Area pass (annual or day options available) or have a valid fishing or hunting license for anyone 16 years or older. (The vehicle registration tag is only for State Parks and not SWAs.)
Check the regulations for all SWAs and the specific SWA you will be visiting. Note if hunting is allowed.
If hunting is allowed in the SWA you are visiting, review the dates for hunting and always wear orange or other bright colors. Be safe, don't look like a moose, elk, deer, etc!
Enjoy the outing!
Philip McNichols
Chair, CFO Conservation Committee