Unique Sighting: Thick-billed Kingbird
The afternoon of September 21, 2022 was very gray with some rain. Linda Chittum and Ada Jones were driving country roads near Mack, Mesa County, Colorado looking for any birds that may be around on a dreary day. They saw 21 species that day but one was a clear highlight. Read on to hear Linda Chittum describe finding a Thick-billed Kingbird (Tyrannus crassirostris).

The Sighting
We were driving down a quiet county road and had stopped at the top where there are some cottonwoods to look and listen a few minutes. Nothing caught our attention so we started driving down the hill slowly. We spotted birds perched in a cottonwood snag on the left side of the road. Even without binoculars, there was an obvious outlier; I asked Ada to stop.
My binoculars on the bird, viewed from the back, it was immediately recognizable as a kingbird. A dark cap with no terminal white tail band immediately ruled out Eastern Kingbird, plus we both thought it looked large. It turned its head and, wowza!, the large bill was obvious. A second shift and the yellow belly was visible. Camera in hand, I jumped out of the truck because I knew this was good sighting. As I moved down the road I got a better angle on the bird confirming the yellow belly and huge bill. At that point I knew it was a Thick-billed Kingbird.
It flew down the road a short distance and we both heard it call. The call immediately ruled out any further consideration of Tropical or Couch's Kingbirds (as did the huge bill). We proceeded to keep eyes on the bird, taking what photos I could, and also taping its calls. After I felt comfortable that I had sufficient evidence of the sighting (you never know when they are gone forever!) I called a local birder who I knew lived relatively close and from there the news hit the local birding grapevine. For hours we remained at the location keeping tabs on the bird and waiting for local birders to arrive in order to assist them in seeing the bird.
The habitat where we found the kingbird is a mix of a cottonwood grove at the top of the hill and in other scattered locations, various smaller trees and shrubs including some Russian olive, tamarisk and juniper and plenty of open sparsely vegetated land. The favored location of the kingbird during its stay was near a small private pond surrounded by some cottonwoods and willows. There is an irrigation ditch that runs adjacent to the top section of road that was flowing and seemed to serve as an attractant of a good variety of species as identified by other birders during subsequent visits.

We were aware of the previous county record of TBKI during a CBC years ago but knew it is a good bird anywhere outside of southeastern Arizona or southwestern New Mexico. We enjoy the exploration of birding, new places and new birds and finding a rare one is always exciting. In addition, it's neat to see how many people were able to subsequently see the bird and frequently count it as their lifer!
Meet Linda Chittum and Ada Jones
Linda Chittum and Ada Jones began birding seriously around 2010. They moved to the Western Slope in mid-January 2022 and have enjoyed birding Colorado's Western Slope since then. They have birded around the United States and abroad. Prior to their move to Colorado, they lived and birded in New Mexico and Virginia. During family visits, they've also enjoyed birding the Front Range and plains over the years.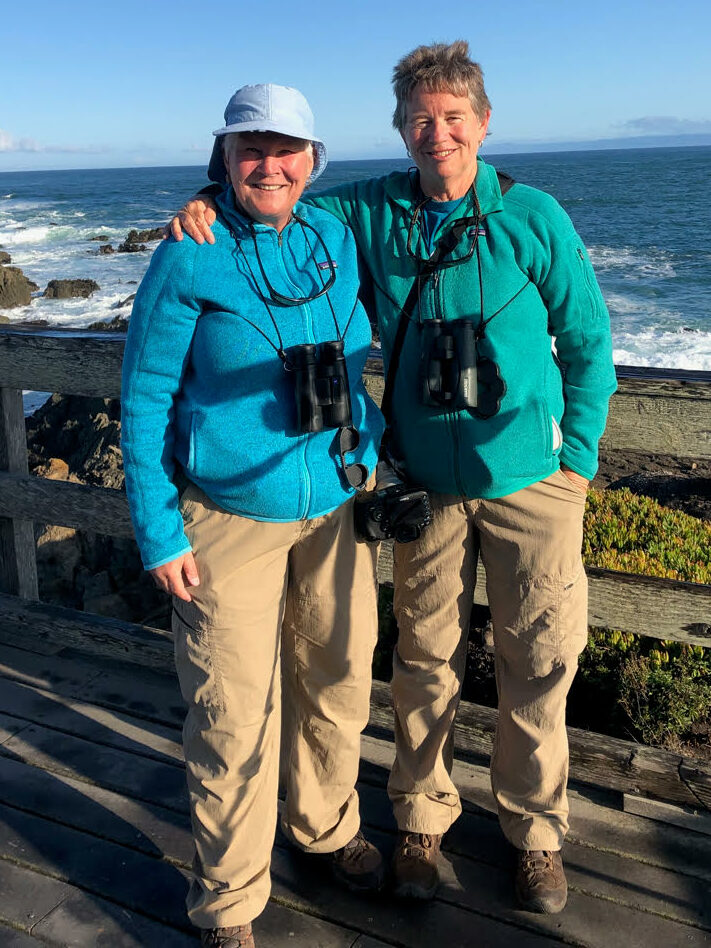 While living in Virginia, they birded Cape May, Maine and Newfoundland, and did plenty of pelagic trips out of Hatteras, North Carolina; Lewes, Delaware; and Virginia Beach, Virginia. They have also enjoyed observing birds in Minnesota, North Dakota, Montana, Florida, California, Arizona, and other states. While traveling for work Linda has been able to do opportunistic birding in Nicaragua, Chile, Argentina, Northern Ireland, the Netherlands, New Zealand, Brazil, Lithuania, Poland, Germany, Italy, San Marino and Croatia.

The Thick-billed Kingbird is surely among the notable birds they've found and they are no strangers to the chase; some rarities in the east include Whiskered Tern, Barnacle Goose, Pink-footed Goose, Tundra Bean-Goose, Fork-tailed Flycatcher, White Wagtail, Swallow-tailed Kite, Sharp-tailed Sandpiper, and Northern Lapwing among others. Linda was lucky enough to be aboard a Seabirding pelagic trip out of Hatteras for an exciting Yellow-nosed Albatross!

Thick-billed Kingbirds in Colorado
Thick-billed Kingbirds have only been recorded in Colorado on three previous occasions. According to the Colorado Bird Records Committee, the previous sightings have been in Jefferson (1992), Elbert (2004), and Mesa (2018) counties. The 2018 Mesa county record was only a few miles from where the kingbird showed up this year. The last report of the Thick-billed Kingbird on eBird was on October 5th, 2022. The long stay of this rarity meant that many Colorado birders were able to see this fantastic species.